I decided to devote this post to the royal city of kings only because I believe it deserves one. It was the first city i have visited in Poland and definitely the best one. Firstly, I wanted to spend here one week, but quickly I realized it won't be enough. I stayed in room near the city center and I simply had no idea where to go first. Old City Center, former Jewish city Kazimierz, soc-realistic Nowa Huta district, Wieliczka and Auschwitz Concentration Camps… Ok then, I will tell you what to do in Krakow in my opinion.
Krakow attractions…
Firstly, when you visit Krakow I advise you to discover the city center. It's the quickest way, even if you have arrived late. Personally I believe that all the cities are different during the night. Sometimes they seem to be uninhabited, but not the royal city. The heart of Malopolska ( one of polish provinces) is an original,medieval pearl. One can take a walking tour on his own or use one of the two most popular sightseeing tours in Krakow.
One way is Melex- an electric car which can enter almost everywhere ( unlike ,,normal" car).  I Second one is horse carriage. You will find them around the main square. It's kind of tradition here but honestly I saw them standing all day, whether it rains, sun is shining or it's really cold. So I decided no, thanks. Anyway, The Main Square is located around 5 minutes from the Main Bus Station and Train Station. You can take a walk and see most important Krakow attractions. Even if everything is closed! My plan? Here you are.
What to do in Krakow ?
Sukiennice- Cloth Hall in the middle of the square. They look impressive also in the night, when cafes inside enlighten them. I think it's worth to walking inside them, where local products are sold. Poland, or at least Southern Poland is famous from amber and woolen staff. Medieval Sukiennice are full of those goodies. It's pretty picturesque building.

Sukiennice- Cloth Hall is a medieval building on the Main Square in Krakow.

In front of Sukiennice one will find a statue of polish bard- Adam Mickiewicz. Under this 10 meters statue one will find four allegories: Homeland, Courage, Science and Poetry. During the semester, the Kraków high school students jump on one leg around the statue.  They believe that the number of jumps equals the grades of their matriculation. Funny, huh?
A few steps further stands most important church in Krakow. Or at least most recognizable one. Church of Our Lady Assumed into Heaven called also ,,Mariacki" is a 14th century polish pearl. The altar inside was sculp­ted by Veit Stoss and is con­si­de­red a late Gothic master­pie­ce. There is also a legend connected with two towers, and why one is shoter than others. I won't tell you more, you have to find it on your own. I will just add that on sukiennice hangs a knife, which is connected with a crime of the Mariacki Church.
Walking tour in Krakow Main Square…
There is one more attraction connected with the Church. Every hour a bugle call player plays the warning song. It reminds us that in 1241 the Tartars invaded Krakow. The player was supposed to warn the citizens, but one of the arrows shot him and the song was over. That's why bugle call player suddenly stops! He waves to the crowds when he finishes and he repeats the warning call to the 4 sides of the world.
Town Hall Tower- although only tower remained, there is a museum on each floor. You can try to count the

Sightseeing Krakow? Wawel Castle is a ,,must see".

stairs. And the view is pretty amazing.

Around 10 minutes walk from the Main Square, necessary on the Grodzka Royal Street one will reach the Wawel Castle. It's one of the most recognizable building of Krakow and the pride of the city. This former residence of kings stand now as a museum, Cathedral and the pride of the city. You can see there famous painting Lady with Ermine of Leonardo Da Vinci. It's magnificent piece of art designed by the best Italian artist of those times. Royal chambers, courtyard, cathedral… And the catacombs beneath the cathedral's floor kings bodies were buried. Also some of the most notable people were allowed to stay there for ever. You can enter this place and see old coffins of the great Poles.
 Under the hill on which castle was built waits for you the dragon. It's a symbol of Krakow. There is an underground road which leads you to the Cave of Dragon. Outside, in front of Vistula River stands huge statue of a Wawelski Dragon which breaths fire.
Trips from Krakow
There are also some attractions near Krakow which are believe are worth to visit. I guess they fulfill your stay in this beautiful city. One of them is located a few kilometers from the city in Wieliczka. It's magical underground kingdom of Salt. Not without the reason it's one of the oldest salt mines listed on the UNESCO.
I entered a dark corridors, I saw beautiful, still salt lake, narrow stairs and wheels driven by human power… It's a museum which shows how first people tried to separate salt from the water and how in medieval ages people did. It's connected with legend of Saint Kinga, Hungarian princess who married polish prince.
Underground, where it was never safe and nobody was sure whether he will come back home superstition was mixed with christian religion. People did what they could to stay alive.
Auschwitz- Birkenau Concentration Camps
In the end I will mention another place which is really worth to see. Maybe it's not something we can call an ,,attraction" but definitely if you wonder what to do in Krakow this is the answer. Former Nazi Concentration Camps in Aushwitz are extremely shocking, depressing and moving places which stay in your mind for ever. I booked trip to Auschwitz, because I wanted to have a guide and pick up, because Oswiecim is around 40 minutes ride and I don't have a car.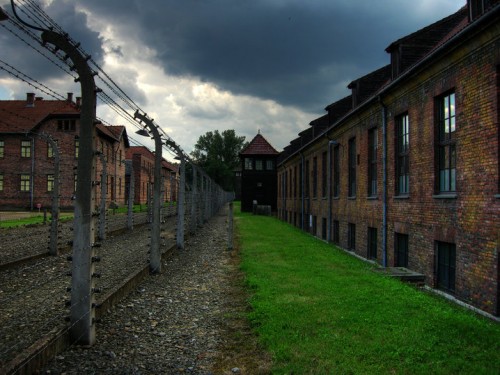 I must recommend the company which took me. Krakow Direct car arrived on time, took me and we went to pick up some more people. Then we arrived in Auschwitz museum. I was barely able to listen to the guide ( I had Spanish speaking guide which was very helpful because I understand everything). I was really good history lesson. You can't really compare things you learn from the book to this what you will see. Pills of skulls, children's skeletons in baby buggies, photos of ,,the prisoners"… And their only crime was that they were not Aryan or decided to fight for their freedom with Nazi system. It was a mockery from human kind, slow death from emaciation. Nazi doctors were experimenting on them, and prisoners from Germany suddenly became a guards, because there were not enough soldiers to work in the camps.
I hope this place will be a warning for the people from all over the world not to let the history happen ever again
Visit in Krakow
As I have already mentioned, to see Krakow one will need definitely more than one weekend. I booked one day trip to Wieliczka Salt mine and Auschwitz Concentration camp but probably next time I would do it separately. I have spend one day walking around the city center, and the other day I spend in Kazimierz District. Sightseeing during the day, and partying in the night. It was previously separate Jewish City.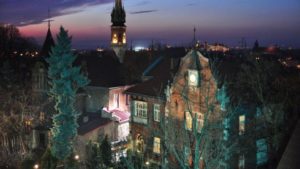 Still, it has it's special atmosphere. Another day belonged to Nowa Huta District, also a separate city once. It's really interesting, because it was supposed to be contrast to ,,intellectual" Krakow in communism period. Nowa Huta was built for ironworks workers as Utopian paradise. Big, simple blocks of flats, parks, shops… And a lot of places where people rebelled against the reality they were living in and occupants.
I entered museums devoted to PRL period in Poland ( amazing how quick their system and mentality has changed!), I saw the tank in front of the museum. Large collections of items from those times let you feel you step into the past. And it's such an unknown part of Krakow! Not mentioning Wanda's Mound, legendary princess, daughter of Krak, founder of Krakow.
I advise also Podgorze, former ghetto area and Krakow Concentration Camps were built. This is where Jewsh from rich Kazimierz were resettled by Nazi and forced to work, before they were sent to Auschwitz.
I hope I made you wish to visit Krakow.  It's interesting place full of legends, secrets and hidden places. Would you dare?